Jan. 17, 2020
Regular sandwich:
The bright spot in the seat cover is the sandwich seat cover and linen cool pad. Today China 3d Mesh Fabric Stroller Mat Supplier and everyone talks about the sandwich seat cover.
Sandwich Fabric: Sandwich is a synthetic fiber, which is mainly used in car covers, sportswear, bags, etc., and is durable. The surface is mesh-like (larger circular mesh), and there is a layer of dense mesh underneath so that the surface mesh will not be deformed too much, which strengthens the fastness and color of the fabric. The mesh effect makes the cover more modern and sporty!
The middle of the fabric is compounded with a thin sponge, which makes the fabric fuller, more elastic, and comfortable to sit. It does not directly penetrate the surface of the seat for a long time, it has a very practical protection function for the original seat made of cotton and linen fabric!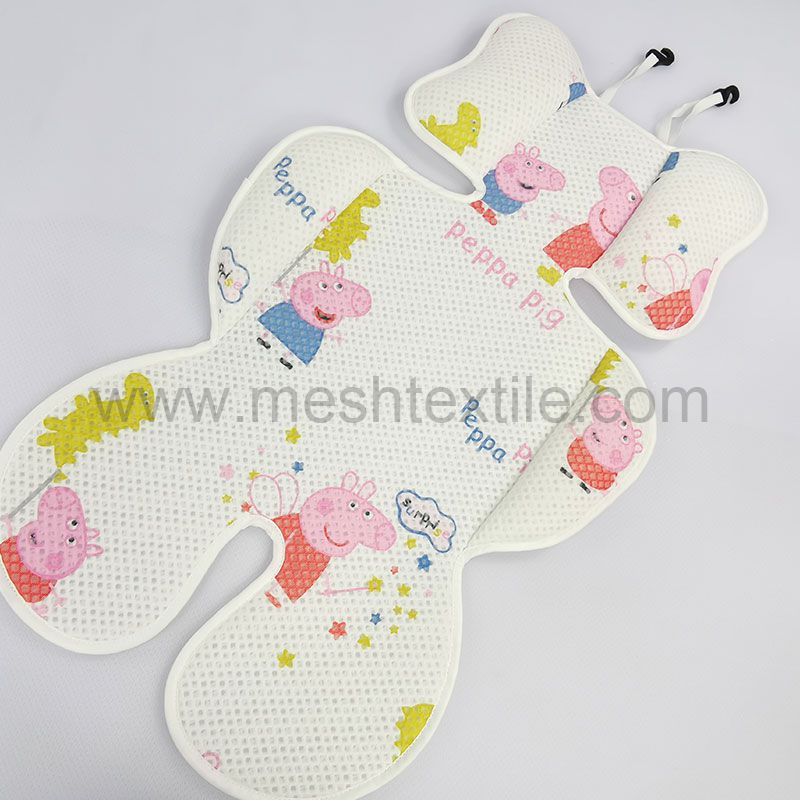 Customized Stroller Mat
Good breathability is another highlight of sandwiches, so similar fabrics are often used in sportswear. The seat cover uses this fabric, which helps to feel refreshing at the waist and legs when driving for a long time. (But the sandwich fabric is selected but there are several different grades of fabric, the outermost layer of mesh, the holes are small,
The price of thin fabrics is relatively low. At present, the thickness of sandwich fabrics on the market should be 3-4 mm. If the fabric used is low-grade, the thickness is about 2 mm, and the touch is not good.
Thickened Sandwich:
1. Cloth
A. Fabric composition: using thick sandwich fabrics [Note: the middle layer has no longer used sponges, all are knitted with a new worsted yarn hollowing the surface layer and the bottom layer, abandoning the shortcomings of poor air permeability and easy delamination of the sponge] fabric Never delaminates and is more breathable, and feels more comfortable in summer
B. Fabric thickness: The overall thickness of the fabric is 3-4mm.
C. Fabric weight: Generally, the seat cover weight of a full-seat car is about 3KG for a 5-seater model and about 4.5KG for a 7-seater model;
2. Seat cover design:
A. Size fit: Our Customized Stroller Mat is a special car cover, each model is independently designed, computer plate making, three-dimensional cutting, accurate size, highly fit the body.
3d mesh is commonly known as extra thick sandwich mesh, also known as 3D material or 3D spacer fabric. It is a new type of pure fabric material with excellent breathability, elasticity and support. It is widely used by manufacturers who need good flexibility and permeability.
In addition to mattresses, pillows, and cushions:
1. Automobile and motorcycle accessories such as seat cushions;
2. Hard hat pad;
3. Outdoor work kit;
4. baby carriage;