Nov. 18, 2020
As a China 3d Air Mesh Fabric Supplier, share with you. Mesh cloth generally has two composition methods, one is knitting and the other is woven. Among them, knitted warp-knitted mesh cloth has the tightest structure and the most stable state. The so-called warp-knitted mesh fabric is a fabric with mesh-shaped holes.

Fabric characteristics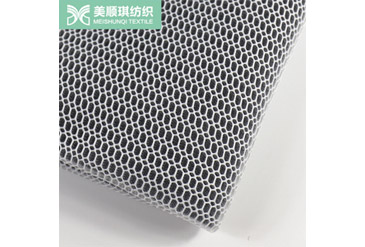 Sandwich Air Mesh
With its unique surface double mesh design and a unique structure (like X-90° or "Z", etc.) in the warp knitted mesh fabric, it presents a six-sided air-permeable hollow three-dimensional structure (three-dimensional elastic support structure in the middle), making It has the following characteristics:
1. It has good resilience and buffer protection.
2. Has excellent breathability and moisture permeability. (The warp-knitted mesh fabric adopts X-90° or "Z" structure, with meshes on both sides, presenting a six-sided air-permeable hollow three-dimensional structure. Air and water circulate freely, forming a hot and humid micro-circulation air layer.)
3. Light texture and easy to wash.
4. Good softness and wear resistance
5. Diversified meshes, fashionable style. There are many shapes of mesh, including triangle, square, rectangle, rhombus, hexagon, column, etc. Through the distribution of the mesh, the effect of straight strips, horizontal strips, squares, diamonds, chain links, and ripples can be presented.
Fabric classification
Warp knitted elastic mesh is the most important product on Raschel warp knitting machines, such as elastic hexagonal nets, diamond elastic nets, Jonestings, etc. They are generally interwoven with spandex roots and nylon. The spandex content exceeds 10% and has strong elasticity. It is often used as a strong bond Clothing for body shape correction.
Produced on HKS series machines, mesh products produced by tricot warp knitting machines. The mesh fabric woven by the tricot warp knitting machine generally has a symmetrical structure or a symmetrical organization structure. When weaving, the same yarn threading and symmetrical lay-up are carried out between every two bars. It has a certain degree of extensibility and elasticity, and has the characteristics of a looser structure, good air permeability and light transmission. It is widely used to sew mosquito nets, curtains, laces, etc.
Fabric application
When the warp-knitted mesh fabric is made into clothing, it is also realized through skilled cutting, sewing and auxiliary processing.
The warp-knitted mesh fabric first has sufficient gaps, and has good moisture transmission, ventilation, and temperature adjustment functions;
Secondly, it has a wide range of adaptability to raw materials, and can be made into soft and elastic clothes;
Finally, its surface performance is good, dimensional stability is good, and the fracture strength at the seam is extremely high; it is used as the lining and fabric of special clothing, and the warp-knitted spacer fabric can also be used to produce safety vests.
Our company also sells Sandwich Air Mesh, please contact us.