Oct. 15, 2020
Using Mesh Fabric can be very easy. However, there are some steps and precautions that can make it a breeze.

How to prepare the fabric?
First, you need to pre-wash it. Usually, this is a necessary step that many inexperienced or even experienced sewing masters often ignore. Make sure to follow the care and washing instructions provided by the retailer. Most mesh fabrics can be machine washed at low temperatures, but some of them need to be hand washed in cold water.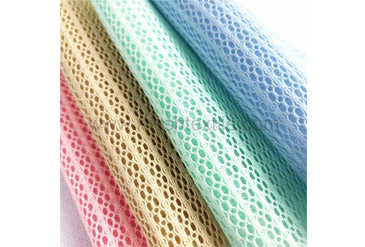 Sandwich Air Mesh
Cutting mesh fabrics can be challenging. It is slippery and elastic. Therefore, I recommend using a rotary cutter and healing pad for more precise cutting. And don't try to cut two layers at once! No matter how skilled you are, you may destroy your structure in the process.
As for pressing, I do not recommend this. Generally, it is not necessary for synthetic fibers. However, if you really need to flatten it, use the lowest setting.
How to Sew Mesh?
Mesh fabrics, especially strong meshes, are stretchable and smooth. For stretch fabrics, ball needles are the best choice. The tips of these needles are rounded and therefore not so sharp. This allows them to slide easily between the yarns of the fabric.
Elastic fabrics also require stronger threads. Polyester thread is stronger than cotton. Therefore, please use general-purpose polyester thread.
You should also loosen the presser foot pressure slightly. It will help you avoid unnecessary stretching when sewing.
Now you can start Sewing Mesh. The sewing is slower than usual. Do it carefully and try to maintain a steady pace. In this way, you will be able to avoid bunching and wrinkling.
For stitches, narrow zigzag stitches will provide better feed and easier sewing. You should also use a shorter stitch length.
If a tear-off or washable stabilizer is used, any fabric with an open weave will be easier to sew. If you are using a traditional sewing machine, please use a double needle. That's it! This is not rocket science. Just like any other stretchy and slippery fabric, you just need to pay more attention. Our company also sells Sandwich Air Mesh, please contact us.