Aug. 17, 2021
After a busy day, bathing will be an excellent relaxing experience. According to the design of the bathtub, if you lean on the hard side of the bathtub, your neck and head will quickly become uncomfortable. A good bath pillow can provide a soft and comfortable resting place for your head, neck and shoulders. It supports your head and neck to prevent muscle strain or pain.
When youchoose the rightbath pillow, some considerationshave to be taken, such as the type, bathtub suitability, material, comfort, and other characteristics. As a mesh bath pillow supplier, I'd like to share it with you.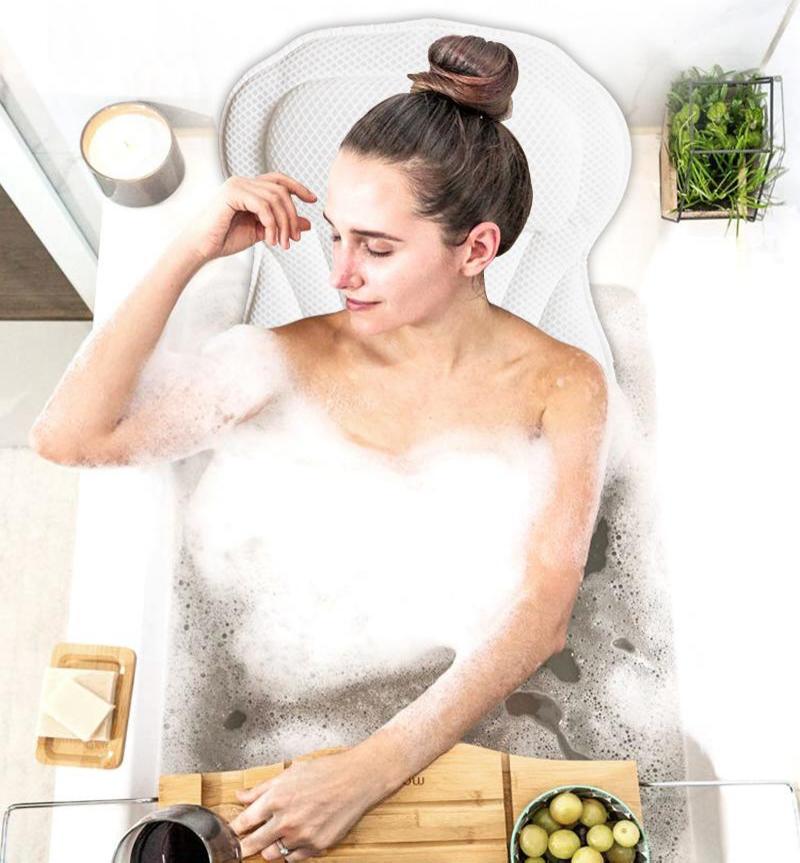 ---
Types of Path Pillows
There are several types of bath pillows, some of which come in many designs and shapes. The main types are standard neck, neck and back, full body and inflatable. The bath pillow on the neck is small and supports only the neck. These are great for small baths.
Bathtub Compatibility
When you look for the perfect bath pillow, you may want to consider the type of bathtub you have. For example, full-body pillows may not fit in a shower / tub combination. Also, the jacuzzi tub can benefit from neck and back pillows, and the rest of the body can benefit from bubbles and whirlpools. A full-body pillow is best because the free-standing bathtub is deep and made of a hard material that causes discomfort to the bones and joints.
The type of bathtub in your home and the type of bath you want will greatly affect which bath pillow is best for you. Consider the shape, size and depth of the tub and compare it to the shape, size and level of comfort of the pillow.
Material of Bath Pillow
The material of which a bath pillow is constructed affects not only the comfort of the pillow but also its durability and the time it takes to dry. Common materials used in bath pillows are mesh over foam and inflatable plastic PVC.
While inflatable plastic is easy to break down and store or travel with, it is not as comfortable as other choices and could easily pop.
Some bath pillows are softer than inflatable but are more likely to still be wet 3 days after use, which could cause issues such as mold. While mesh bath pillow come in a few varieties, such as 3D mesh. It designed to be breathable and allow the pillow to dry more quickly. Also it is durable and long-lasting.
As the product of our company, the bathroom pillow is made of 3D high elastic fiber and woven by German kalmyer warp knitting machine. It has the advantages of high resilience, high comfort, health and environmental protection. In Europe and America, plastic PVC products have been gradually replaced.
air mesh fabric body bath pillow
Secure in Place
To ensure your comfort and safety, your bath pillow must be secured in place so it does not slide around while you relax in the tub. Many pillows feature suction cups that hold it in place against the side of the bathtub. To make sure to look for products with oversized suckers. Press the cups firmly against the surface so a tight seal is formed. You can also opt for a bath pillow that has a counterweight that curves over the edge of the tub and helps ensure that it stays in place when you lean back against it.
Comfort
Characteristics such as material and type affect the comfort of bus pillows. The texture of the skin is soft and may not be irritating. The mesh is softer than inflatable plastic and feels pleasant to the skin.
The best way to determine what type of pillow will help is to pay attention to areas of your body that are uncomfortable during bathing and: These areas can use extra support, and you can find a pillow that will help.
Cleaning and Maintenance
Keeping bus pillows clean can be difficult. Because it is used in water, insufficient drying may cause mold. To avoid such embarrassment, look for a 3D mesh pillow that allows for a sufficient amount of air and ventilation. They dry quickly and can reduce the risk of mold.
Changshu Meishunqi Knitting Technology Co., Ltd. specializes in producting of 3d air mesh, knitting fabric, warp knitting fabric and mesh fabric and our products belong to polyester, and low stretch. now we offer more than 100 different designs of fabric and our prodcuts are widely used as 3D products, garments, shoes, hats, bags, home textiles, car accessory, commodity, medical supplies, outdoor products, sports. The colour, gram weight, width, hardness, etc. of all products Can be customized according to customer's request. We also provide all kinds of 3d products such as 3D pillows, car seat cover, mattress. All products size, colour, fabric can be customized according to customer's requirements. If you want to learn more about our products, please contact us.