Aug. 11, 2021
Most of our sportswear and school uniforms are lined with mesh cloth. Sometimes I wonder why we need to add a layer of mesh cloth. Especially in autumn and winter, every time you take off your clothes, there will be static electricity. So, why choose mesh cloth as the inner lining? As a China 3d Air Mesh Fabric Supplier, share with you.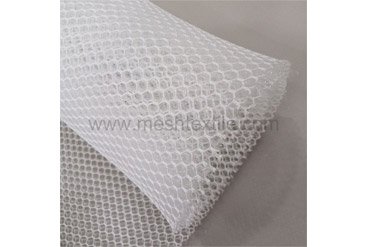 Customized 3d Mesh Fabric
First, we need to understand what mesh cloth is. Mesh cloth is also called mesh cloth. To be precise, it should be called warp knitted fabric. Simply put, it is a fabric woven by a warp knitting machine. The mesh size and depth of the mesh can be woven by adjusting the needle method of the warp knitting machine according to the needs, such as our common diamond, triangle, hexagon, and column, square, square and other meshes. The diversification of mesh shapes is a major feature of warp-knitted fabrics. The range of warp-knitted fabrics is very wide, and it is also widely used in outdoor equipment. At present, the materials used in mesh weaving are generally polyester, nylon and other chemical fibers, which have the characteristics of high strength, light weight, high resistance, low temperature, and good moisture absorption.
It is precisely because of the unique characteristics of mesh cloth that it will be widely used in outdoor clothing. Mesh cloth acts as an isolation layer between human sweat and clothing, preventing moisture from being extremely tired on the surface of human skin, maintaining smooth air circulation, avoiding the wear of waterproof and breathable membranes, etc., making clothing more comfortable to wear. The mesh used in some high-end clothing is also woven with fibers that have the function of absorbing moisture and wicking perspiration. Due to the difference in design concepts and manufacturing processes, some jackets use a three-layer composite fabric that is directly attached to the inner side of the breathable membrane. According to the needs and characteristics of use, some equipment also uses a mesh with a certain degree of elasticity woven from strong stretch fibers such as elastic yarn, for example, it is used to make water bottles and sundries mesh bags on the outside of mountaineering bags. Elastic mesh fabrics are used on the inside of the backpack, shoulder straps and other parts. The main fabrics such as vests of sanitation workers are mesh cloth. Our company also has Customized 3d Mesh Fabric on sale, welcome to contact us.