Aug. 30, 2021
Sandwich meshes are usually processed by high-precision weaving machines using polymer synthetic fibers. Sandwich mesh has good air permeability and has a water-locking function. It is widely used in sports shoes, bags, seat covers and now in the clothing industry.
As a sandwich meshes supplier, let me shoe you the considerations when choosing the sandwich meshes.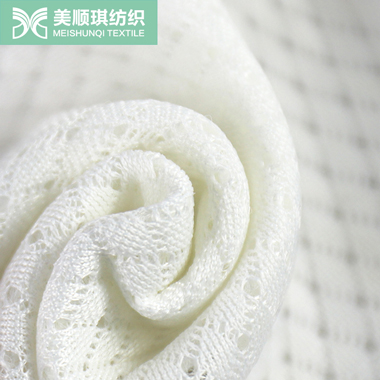 Thin soft breathable sandwich mesh fabric
Fabric
Sandwich mesh is made of polymer materials. A great feature is that it does not ball, and the weaving is made with warp, so it can withstand great tearing strength and the feel is smooth and cool. However, ordinary mesh fabrics do not have this effect, such as car seat cushions. After a long period of time, ordinary mesh fabrics become loose. Out of shape.
Air Permeability
Sandwich mesh cloth has good air permeability. Due to the use of high-quality raw materials, and the middle layer and the bottom layer are meshes, it can maintain air circulation outside the cloth. Therefore, when used as sportswear and sports shoes materials, it can let Keep the air circulating inside and outside. Some of the imitations circulating in the market have poor air permeability. Although on the surface, fans and sandwich meshes are familiar, but after being made into clothing, they will feel bored when wearing them.
The bottom layer of the high-quality sandwich mesh fabric is made of non-woven fabric, which has a water-locking function, and it will not penetrate into the lower layer when it is normally used on car seat covers. In addition, sandwich meshes have good air permeability, and some low-quality sandwich meshes on the market feel thinner to the touch due to the fabric. The thickness is about 2 mm, and the eyelets look smaller than normal sandwich meshes. many.
Processing Technology
Sandwich mesh is a kind of woven fabric that is widely used in the textile industry. Its processing technology is processed by a double warp knitting machine, while the ordinary mesh is processed by a single warp knitting machine. In terms of technology, sandwich mesh is far superior to ordinary mesh.
Meishunqi specializes in producing of 3d air mesh, knitting fabric, warp knitting fabric and mesh fabric and our products belong to polyester, and low stretch. now we offer more than 100 different designs of fabric and our products are widely used as 3D products, garments, shoes, hats, bags, home textiles, car accessory, commodity, medical supplies, outdoor products, sports.
If you want to learn more about our products, please contact us.