Jun. 24, 2021
As a Sandwich Mesh Fabric Manufacturer, share it with you.

In textile fabrics, the difference between mesh cloth and Bali yarn is as follows:
Mesh cloth is a fabric with mesh-shaped holes. It can be woven with pure cotton or chemical fiber blended yarn (thread), or it can be woven with yarn and thread. There are white weaving or yarn-dyed weaving, as well as jacquard weaving, which can weave complex and simple patterns. Good air permeability, after bleaching and dyeing, the cloth body is very cool. In addition to summer clothes, it is especially suitable for curtains, mosquito nets and other articles.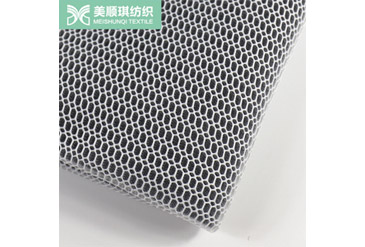 Sandwich Air Mesh
1. Good air permeability and moderate adjustment ability. Compared with other flag fabrics, mesh fabrics are more breathable and can be used outdoors for a longer period of time.
2. It has a unique elastic function. The mesh structure of the mesh cloth has undergone high temperature shaping in the production process. When it is subjected to external force, it can extend in the direction of the force. When the pulling force is reduced and removed, the mesh can return to its original shape. Mesh cloth is made from tens of thousands of polymer synthetic fiber yarns refined from petroleum. It is warp-knitted by a knitted weaving method. It is not only strong but also able to withstand high-strength tension and tearing.
3. The mesh cloth can be washed without fading. It can be washed by hand and machine. The color of the banner is bright and soft, and it does not fade.
Voile is a kind of textile and clothing fabric. It is a thin and transparent fabric woven with plain weave, which belongs to woven fabric.
Both warp and weft using fine combed and strong twisted yarn. The density of warp and weft in the fabric is relatively small. Due to the "fine" and "sparse", plus strong twist, the fabric is thin and transparent. All raw materials are pure cotton and polyester cotton. The warp and weft yarns in the fabric are either single yarns or strands.
According to different processing, glass yarn includes dyed glass yarn, bleached glass yarn, printed glass yarn, yarn-dyed jacquard glass yarn, etc. The texture of the glass yarn fabric is thin, the hand feel is very cool, the cloth holes are clear, transparent and breathable.
Our company also has Sandwich Air Mesh on sale, welcome to contact us.