Nov. 22, 2019
With the rapid development of China's network economy, as long as the mesh fabric industry utilizes the platform of the network, the prospects will be better and better, and the market will not be limited. The appearance of mesh fabrics has directly affected the flourishing development of the knitting industry. The large-scale use of mesh fabrics in the display of life also indicates the broad prospects of the mesh industry. Recently for the mesh. The industry research on mesh fabrics is also endless. The biggest change in the interior is the seat fabric, and the fashionable mesh fabric replaces the original flannel, which gives off a strong sense of movement. The volume of 3D Spacer Fabric market increased slightly, and the demand for the main sportswear production increased, which prompted the knitting spacer fabric to improve.
Mesh fabric features are widely used in the market:
10mm spacer Fabric Mesh is both a wonderful piece of knitted fabric and a favorite of consumers. It is understood that the mesh weaving chain is woven on the warp knitting machine, which has been processed by pre-shrinking, special dyeing and fine finishing, so that it has the functions of strong three-dimensionality, stretching and other functions, and outstanding advantages such as outstanding style. The fabric can be used in many places: sportswear, shoes and hats, bags, travel, medical, automotive interiors, sports equipment, daily necessities, etc. Although the sandwich mesh fabric is expensive, it is popular among consumers because of its excellent quality, beautiful appearance and comfortable wearing.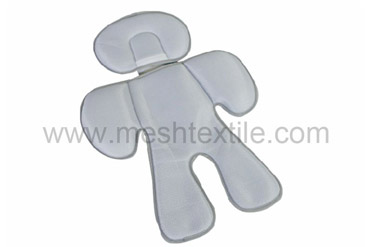 3D Mesh of Chair Cushion
Why are mesh fabrics so popular with consumers? Changshu Hanyu Warp Knitting Co., Ltd. answers for you:
First, the characteristics:
1. Constant temperature, breathable, permeable
2. Memory, elasticity, buffer protection
3. Light texture, easy to wash, quick-drying
4. Strong support
5. Anti-bacterial, health care
6. Pressure adsorption
7. Ergonomically effective to protect bones
8. Non-toxic, hypoallergenic
9. Comfortable, wear-resistant, flame retardant
10. Reuse
Second, the application area:
Shoes, luggage fabrics, bedding (mat, mattress, pillow), sports protection materials, outdoor sports materials, office furniture, car decoration materials (safety caps, most breathable pillows, motorcycle seat covers, car seat covers) , steering wheel cover), in some areas can replace foam, sponge.
Its unique double-sided mesh design and "X-90°" structure in the middle show a six-sided breathable hollow three-dimensional structure (intermediate three-dimensional elastic support structure), which is widely used due to its superior breathability and resilience. Used in motorcycle car decoration, such as seat cushions, steering wheel covers, etc.
Superiority:
1. It can protect the skin from the pollution of liquids and particles and can make the skin breathable.
2. The surface is stretched, the rebound is good, it provides cushion protection, easy to wash and dry.
3. Firm and good, no delamination, good heat and humidity comfort
4. Chemical finishing agent and fuel consumption are small, no pollution, and the bottom of the fire
5. Good mechanical properties and chemical stability
6. Environmentally friendly, non-toxic, moisture-proof and mildew-proof, can be recycled